Our annual New Years ride is coming up. The first arriving RUTS memebers will mark camp in with RUTS arrows from 20 Mule Team Road and Highway 395. See MAP links below for camp location
Our club ride scheduled for:
Wednesday Dec 28th through Sunday Jan 2nd
GPS: 35° 13.258'N 117° 26.582'W
Google Earth (KMZ):http://tinyurl.com/RUTSnewyearscamp
Google Maps: http://tinyurl.com/RUTSnewyearscamp2
PDF Map: http://tinyurl.com/RUTSnewyearscamp3
Activity Schedule:
Thursday afternoon Ride to the Squid Pit and hills around camp.
Thursday evening: 7pm Camp fire time, bring firewood.
Friday afternoon ride to Husky / Petroglyphs
Friday evening: 7pm Camp fire / Bon Fire, bring your Christmas trees!
Saturday morning: Single Track Around the Peak Ride (advanced). 2 hours.
Saturday afternoon: Family Randsburg Ride (21 miles)
RUTS apparel will be out and for sale on SATURDAY from 5-7pm
(Flags, sweatshirts, tee shirts, beanies, ball caps, tee-shirts, coffee cups, stiuckers and more!) Cash, check or CC.
Saturday Night: Camp Fire time 7pm, bible study / devotion, DESSERT potluck, movie on the big screen!
Stay up late and celebrate the new year with a big fire and lots of snacks!
Sunday Morning: Church around the campfire. 8am
Sunday afternoon: Shooting time across the lake bed, bring something to shoot.
Please don't forget to bring a dessert to share SATURDAY night and also FIREWOOD!
For more information or questions
Check out the RUTS Facebook page
https://www.facebook.com/groups/racersundertheson/
or email ruts@ruts.org
The Duncan's will host this years Thanksgiving Club Ride at South Anderson Dry lake. Come join us before or after your family dinner. We will be setting up camp on TUESDAY NIGHT. If your arrive earlier, please MARK in your location, so we don't have two camps on Thursday morning. Fly a flag, mark on a pie plate or print you up some RUTS ARROWS on card stock! We don't have anything special planned, so come out for a low key, relaxing weekend of riding and some camfire fellowship. Camp will be near the hillside adjacent to the dry lake, not far from the BLM restrooms. Look for the RUTS arrows and the big blue RUTS flag.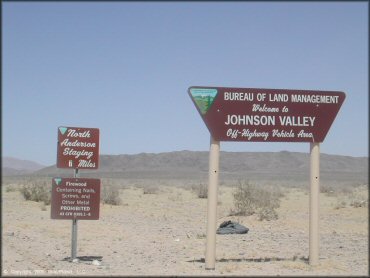 Our preferred camp area if you arrive before we do is linked with this Google Earth KMZ
GPS coordinates:
34°33'25.99″N
116°46'23.14″W
Trialboss: Scot and Trish Duncan: (949) 370-8582 or (949) 370-9130